How to identify your Turbocharger?
All turbochargers should have an identification label or nameplate secured to the outside casing of the turbocharger. It is preferable if you can supply us with this make and part number of the actual turbo fitted to your car.
Normally, you can identify the turbocharger by Model Name, Part Number and OEM number.
Model Name:
This generally indicates the general size and type of the turbocharger.
Part Number:
The specific part number of a turbocharger is assigned by the turbo manufacturers within a range of turbochargers. This specific part number can be used to identify the turbocharger straight away, so usually it is recognized as the best form of turbo identification.
Customer Number or OEM Number:
OEM number is assigned by a vehicle manufacturer for a specific turbocharger of a vehicle. Please note that performance turbochargers for generic use do not have an OEM number.

There are several manufacturers of turbochargers, which include Garrett, KKK, Borgwarner, Mitsubishi and IHI. Below are guides to help you identify where, in each case, you can find the part numbers which ideally, we require.

1.Garrett Turbocharger (Honeywell)
The part number of a Garrett turbocharger comprises six digits, a dash and more digits i.e. 723341-0012 This number can usually be found on the aluminium compressor housing of the turbocharger, either on a 2-inch plate or on the cover itself and normally consist of numbers that start with a 4, 7 or 8.

Examples:
723341-0012
708639-0001
801374-0003
Garrett Part number: 723341-0012
Manufacturer O.E: 4U3Q6K682AJ
---
2.KKK Turbocharger (BorgWarner / 3K)
KKK or Borg Warner are more difficult to find. The part numbers are again usually located on the compressor housing (or in some instances on the underside near where the oil/drain pipes go) on a small plate. They also have the biggest range of part numbers and variations used so it can be a little more difficult.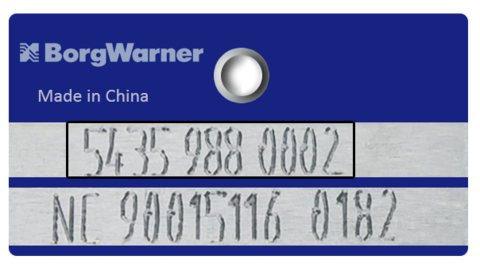 Examples:
K03-0053, 5303 970 0053, 5303 988 0053
K04-0020, 5304 970 0020, 5303 988 0020
KP35-0005, 5435 970 0005, 5435 988 0005
KP39-0022, BV39-0022, 5439 970 0022, 5439 988 0022
BorgWarner Part number: 5435-988-0002
Note: 988 can be interchanged with 970 and might be required when searching the store.
---
3.Mitsubishi Turbocharger

Mitsubishi turbocharger have a5 digit prefix followed by a dash then a 5 digit suffix and often start with a4. They are in most instances identified by numbers engraved into the flat machined face in the alloy inlet compressor housing.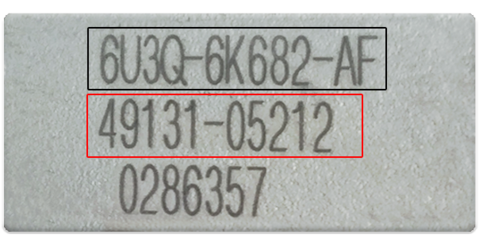 Examples:
49377-03041
49135-05671
49335-01000
49131-05212
Mitsubishi Part number: 49131-05212
Manufacturer O.E: 6U3Q6K682AF
---
4.IHI Turbochargers

IHI use the Turbo Spec as the turbocharger part number, they usually use 4 characters, usually two letters and two numbers or 4 letters. The part number can be located on the alloy compressor cover of the turbocharger.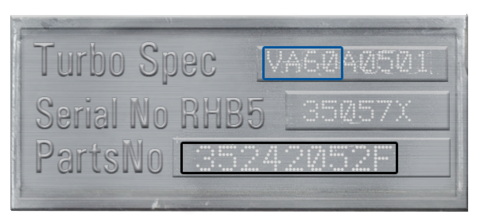 Examples:
VJ60
VJ36
VV14
VIFE
VIFG
IHI Part number: VA60
Manufacturer O.E: 35242052F
---
5.Toyota Turbochargers

Toyota can be very confusing indeed to identify, with some units not even carrying any ID plates at all. Usually the most easily accessible turbo number is 5 digit number which is located on the turbine housing where the turbocharger connects to the manifold.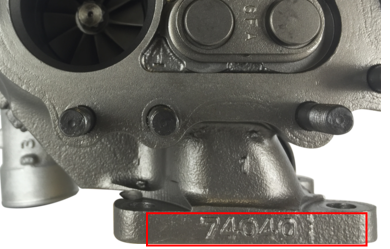 Example:
Toyota Part number: 17201-74040
---
6.Holset Turbochargers

Holset use the assembly number as the part number, they also usually start with a 3, the turbo type can also be useful when trying to narrow down a Holset turbo to application.


Example:
3788294
3597179
3539502
4040250
Holset Part number: 3533544
Turbo Type: HE500FG
---
So how do you identify your turbocharger if the tag is missing?
If the turbocharger name plate is missing or difficult to read, please obtain the following information to help us determine the correct turbocharger for the application.
· Application, Vehicle model
· Engine Make and Size
· Build Year
· Any additional information which could be relevant
If you need assistance identifying your turbo, please do not hesitate to contact us.